Advertisements
Sydney property values are tumbling at their fastest rate in almost 40 years as the Reserve Bank's aggressive tightening of interest rates starts to bite, and even more rate pain is on the cards this week for home buyers.
Advertisements
Home values calculated by CoreLogic and released today show Sydney's house values fell by 2.5 per cent in July to be down by 5.3 per cent over the past three months. It's the largest quarterly fall since the mid-1980s.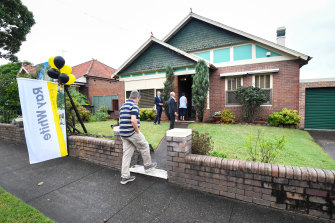 It's a similar situation in Melbourne, where house values are falling at their fastest rate since the global financial crisis, dropping by 1.6 per cent last month to be down 3.7 per cent over the quarter.
While house values, which soared during the pandemic, had slowed in the early months of the year, there has been a sharp fall since the Reserve Bank started lifting official interest rates in early May.
Nationally, home values lifted by 28.6 per cent during the pandemic, but they have now shed 2 per cent since peaking in April.
Sydney and Melbourne have led the market down, but through July there were also falls in the median house values in Brisbane, which slipped by 1.1 per cent, Hobart (1.2 per cent) and Canberra (1.4 per cent).
Adelaide is now the fastest growing market in the country, with values there up by 0.3 per cent last month to be 23.3 per cent stronger over the year. Values increased by 0.2 per cent in both Perth and Darwin.
Despite the sharp fall, house values in Sydney are still 2.1 per cent up over where they were a year ago, with the median value at $1.35 million. Melbourne is up by 0.2 per cent, with the median house value sitting at $967,000.
Canberra remains the second most expensive market, up 10.9 per cent over the past 12 months, with a median house value at $1.05 million.
,
CoreLogic's head of research, Tim Lawless, said the sharp rises in values through the pandemic were being rapidly unwound.
"It doesn't look like it's going to slow down any time soon. It's not just the lift in interest rates but also the impact of inflation, so the fall is probably going to accelerate," he said.
Throughout the pandemic, regional centres across all parts of Australia recorded a lift in population growth and house prices.
But even they have not been immune to the impact of the RBA's interest rate rises. Values are down by 1.1 per cent in Geelong over the past three months, by 2.2 per cent in Newcastle, by 4.4 per cent in the Illawarra and by 2.3 per cent across the Sunshine Coast.
Values in NSW's Southern Highlands tumbled by 3.1 per cent in July alone.
The impact on housing markets is likely to continue with the Reserve Bank board meeting on Tuesday. The Reserve is expected to lift the cash rate by half a percentage point to a six-year high of 1.85 per cent.
That would be a lift of 1.75 percentage points over four months, the most aggressive tightening of monetary policy since 1994.
If the bank goes through with another 0.5 percentage point increase, a person with an $800,000 mortgage would face a $770-a-month lift in their repayments.
Commonwealth Bank chief economist Gareth Aird said last week's inflation figures, which showed consumer prices growing at their fastest rate in 21 years, had solidified the case for another lift in rates.
"The strength and breadth of price rises in the inflation data means another big rate rise is likely and we expect a 50 basis point hike," he said.
Both the RBA and Treasury have made specific reference to the large level of savings built up by households during the pandemic. Household deposits held by the ANZ, Commonwealth, Bendigo and Adelaide, Westpac and NAB banks have climbed by $299 billion since March 2020.
But data from the Australian Prudential Regulation Authority suggests the sharp lift in savings is coming to an end.
Household deposits increased by $2.9 billion or 0.2 per cent in June. The authority noted this was another consolidation in savings that may be driven by the lift in inflation facing many Australians.
"The stabilisation of household deposits, from a period of strong growth, is likely reflective of
increasing cost-of-living pressures," it said.
( Information from smh.com.au was used in this report. To Read More, click here )
Advertisements