Advertisements
The head of the British armed forces says he is envious that Australia doesn't have to suffer the problems his country is facing in the construction of warships promised in a $44 billion program between the two nations.
Advertisements
The UK's Chief of Defence Staff, Admiral Sir Tony Radakin, moved to reassure Australia it would benefit from the "teething problems" experienced by Britain while producing the Hunter-class ships, which he said would be "the best anti-submarine warfare frigate in the world".
Australian officials said earlier this year the frigates would be heavier and slower than first planned under the original design of shipbuilder BAE's Type-26 vessel, joining concerns over project delays that prompted Spain to ramp up its own sales pitch for three destroyers to fill the gap.
Radakin said on Saturday he was unaware of the Spanish offer, but acknowledged Britain had been "up front about some of the teething problems that we've had with the first ship".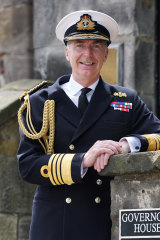 "We've turned design into ships, and in the next few years, those ships will be at sea all ahead of the Hunter program … and I'm envious of Australia, because it gets the benefit of any teething issues that the UK has, then Australia doesn't have to suffer those," he said.
"Just to give you an example of how significant that is, when we built our two aircraft carriers, we built our second aircraft carrier 20 per cent faster than the first."
Radakin was among military leaders to gather at a conference for Indo-Pacific defence chiefs in Sydney last week, during which Pacific security and military lessons from Ukraine were discussed.
Asked whether China would heed lessons from the conflict following international speculation of an invasion of Taiwan, Radakin said he "wouldn't necessarily point to China specifically" but added all nations and military professionals were taking stock of what was happening.
,
"Nations that [think their] militaries can quickly invade other countries or tracts of land and take populations under their control are just naive … it's a relearning of what history tells us," he said.
"I think what you're seeing is, even when a much stronger military force looks to use its military power on an adjacent land border, and then when that country then fights back, it is an incredible struggle … and I think all nations are probably taking stock of that," he said.
Radakin said one of the big lessons from Ukraine's endurance of the Russian invasion was the "strength of collective defence" as well as the "crude" way in which Russia was conducting the attacks.
"The converse is trying to conduct warfare in a more precise way with increased speed," Radakin said, adding Ukraine's counter-attacks had involved more agile, "higher-quality weaponry".
He described Russian President Vladimir Putin's tactics as an example of "how not to fight, and that has surprised us because, I think for most of us, we thought the Russians had a stronger ability to link land forces to conduct combined armed manoeuvre, to be able to operate with far more speed … and that isn't happening".
Australia could have a defence capability gap, with the expectation the nuclear submarines to be acquired under the AUKUS deal with the United States and Britain won't be ready until 2040, prompting opposition defence spokesman Andrew Hastie to urge Britain to compete with the Americans to supply Australia.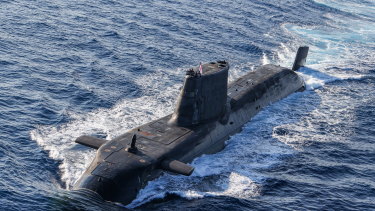 But Radakin said the strength of the partnership was the lack of competition over co-operation between allies. "We're working together to come to the best outcome to provide Australia with an honest assessment of the various choices, and how it best takes itself forward to produce a nuclear submarine fleet in the future," the admiral said.
"So I don't buy the 'let's focus on this country and these difficulties', and so-on and so-on. We're doing this altogether for a share outcome."
( Information from smh.com.au was used in this report. To Read More, click here )
Advertisements