Advertisements
Australia won't hesitate to shut its borders to South Africa over concerns about an emerging strain of COVID-19 as health authorities investigate data around the variant that has been described a "serious concern".
The UK added South Africa and five other African countries to its travel "red list", banning all direct commercial and private flights from South Africa, Botswana, Eswatini, Lesotho, Namibia and Zimbabwe.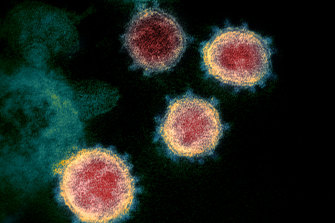 The new strain, currently called B.1.1529, has been detected in several countries but fewer than 100 cases have been confirmed so far.
Health Minister Greg Hunt said no cases of the strain have been discovered in Australia, but the country would not hesitate to move swiftly if health experts are concerned about the variant.
"If the medical advice is that we need to change, we won't hesitate. That's what we've done as a country, whether it's been closing borders, whether it's been ensuring that there's quarantine," he said on Friday morning.
Mr Hunt said Chief Medical Officer Professor Paul Kelly and head of the Scientific and Technical Advisory Group, Professor Brendan Murphy, were investigating, and at this stage there was no advice the border should close to South Africa.
Advertisements
"I asked the Chief Medical Officer of Australia, Professor Kelly this morning in our conference call to review the status of the potentially emerging variant … and if more action is needed, more will be taken," he said.
People returning to Australia from South Africa have been going through the Howard Springs quarantine facility in the Northern Territory, and the most recent repatriation flight arrived about two weeks ago.
,
"At this point in time there's very little traffic directly between South Africa and Australia. We also happen to be very, very highly vaccinated now, as I mentioned, 92.1 per cent of the 16 plus population," Mr Hunt said.
"But we will continue to be flexible and when tough decisions need to be made, we haven't shied away in the past and we won't shy away in the future."
Prime Minister Scott Morrison said there were many variants of the coronavirus, and so far investigations have not officially designated the South African strain as a variant of concern. The World Health Organisation has listed the variant as a "variant under monitoring".
If the WHO decides it is a significant new variant, it will be given the Greek designation "Nu".
"We monitor all of these variants. We note the responses that are made by other countries and we consider those in real-time," Mr Morrison said on Friday morning. "What is more important is the best protection against any variants, including, and those that are present, is vaccination."
South African Health Minister Joe Phaahla earlier said the variant was "a mutation variant of serious concern".
To date, more than 92 per cent of eligible Australians have had one dose of a COVID-19 vaccine, and more than 86 per cent are fully vaccinated. About 390,000 people have had a booster shot.
Advertisements
( Information from smh.com.au was used in this report. To Read More, click here )
Advertisements