Advertisements
What's really happening in the No 10 inner circle
MPs have submitted letters of no confidence in PM
Philip Johnston: Once a prime minister's authority goes, the end can be swift and brutal
Government pledge diluted on paying for social care
Sketch: Nadine Dorries gives the Left as good a verbal thrashing as she gets
Amess funeral: A farewell Parliament's great collaborator
Boris Johnson's social care plan is like a "classic Covent Garden pickpocketing operation", in which people are distracted while being robbed, Sir Keir Starmer has claimed. 
During a fiery PMQs, the Labour leader accused the Government of running a "classic con game", with the Prime Minister giving "pantomime speeches" to the public while Rishi Sunak, the Chancellor "dips his hand in their pocket".
Having altered the way the cap on care costs is calculated, so it no longer includes council contributions towards total fees, the plan will "pick the pockets of the poorest" while leaving the richest protected, he added, accusing the Government of having created "a working class dementia tax". 
But the Prime Minister repeatedly insisted that was not the case, telling his political adversary the plan would "disregard your home as part of the assets" and create certainty around total costs, which would enable an insurance system to develop. 
 Attacking Sir Keir's "befuddled mind", Mr Johnson added: "They haven't had the guts to fix this in all their time in office, it's something left over from the Attlee government and we are fixing it."
And that's it for another day…
Boris Johnson was "surprisingly upbeat" at last night's drinks receptions for MPs who joined the ranks in 2015 and 2017. 
He was "on genuinely good form", says one attendee. "Pretty positive," another adds. "Although still pushing the line that all the good stuff being done is being ignored, which I am not sure would be widely agreed."
But it is one thing rallying the troops out in the open – it is quite another preventing them from privately expressing concerns or even sending in the dreaded letter of no confidence. 
Thus far it seems that things are far from fatal for the PM, although the poll slide continues and his personal favourability rating has plunged. But backbenchers know just how powerful a force he can be when he goes into election mode – and are reluctant to rock the boat, no matter how unhappy they may be with some of his bad judgment. 
The consensus is that this should serve as a wake-up call to right the ship and start delivering what was promised. Whether he will do so is the big question. 
"He will not listen to advice," says a former minister.  Perhaps now is the time to start doing so. 
For more news and analysis carry on reading below
Westminster whispers suggest 14 letters of no confidence 
The Westminster rumour mill has gone into overdrive speculating on how many letters of no confidence in the Prime Minister have been sent into Sir Graham Brady. 
One well-placed Conservative MP has told The Telegraph there are 14 so far, but these are mostly "from the usual suspects, who didn't like the PM anyway".
He notes "we are nowhere near" the levels of concern reached under Theresa May but Westminster is "rife with rumour and conspiracy theories at the best of times", my source adds.
"It's definitely a turning point, particularly in terms of colleagues' trust, but it's certainly recoverable."
Read 11:23am and 11:12am for more
Geoffrey Cox is 'taking the mick' by sticking with second job, says Labour's deputy leader
Labour's deputy leader has accused Sir Geoffrey Cox of "taking the mick" after he appeared taking part in a Caribbean corruption inquiry.
The former attorney general, who recently came under for the amount of time spent on his second job, joined the British Virgin Islands Commission of Inquiry via via video link on Wednesday while the Commons was sitting.
This time Sir Geoffrey blurred out his background – although he does not appear to be in his parliamentary office, or in the Caribbean itself. 
Geoffrey Cox is taking the mick and the Prime Minister is letting him get away with it.

This is a test of leadership for @BorisJohnson and whether he is serious about tackling corruption & stopping his MPs from having dodgy second jobs instead of representing their constituents. pic.twitter.com/8c1R9EfwC6

— Angela Rayner (@AngelaRayner) November 24, 2021
Senior office admits it is 'pretty hard to be sure' what impact Brexit is having on trade
A senior Government official has said it is "pretty hard to be sure" of the effect Brexit has had on trade.
Alex Chisholm, permanent secretary at the Cabinet Office, told the Public Accounts Committee that statistics experts believe "it's too early to disentangle the impact of both Covid-19 and EU exit".
"I'm sure that is a wise view of the matter," he said.
"It looks as if there's been a slight rebalancing of trade between UK and EU versus UK and the rest of the world… and that's obviously been a trend over a long period of time. What we don't know is whether or not this apparent acceleration in that reflects EU exit effects versus Covid, because you've got some very substantial distortions there."
Mr Chisholm added: "So it's basically pretty noisy and pretty hard to be sure what the effect of EU exit on trade is at this point in time."
PM's personal ratings fall to all-time low
Boris Johnson's personal ratings have slumped to their lowest level – but Labour is still struggling to cut through, a new poll has found. 
The Prime Minister's favourability plunged five points to -14 – lower than previous dips recorded during his tenure, according to Savanta ComRes. The field work was carried out 19-21 November, missing Monday's Peppa Pig speech, but in the wake of the sleaze and second jobs row. 
While Mr Johnson still outranks Sir Keir Starmer as the "best prime minister", some 38 per cent of people said they would vote Labour in a snap election, compared with 36 per cent for the Conservatives.   
Chris Hopkins, political research director at Savanta ComRes, said: "Another Labour lead and significant drops in the Government and PM's favourability – both to their lowest ever levels in our still, relatively new, tracker – should be good news for Labour but, the fact remains, that the drop in Conservative support tends to be going 'nowhere' rather than directly to Labour."
There was "nothing to suggest" that Labour is "ready, or trusted, to take advantage" of the political crisis, he added. 
No country willing to process asylum seekers for UK, admits minister
Not a single country has shown an interest in hosting offshore processing centres for asylum seekers under the Government's immigration plans, a Home Office minister has admitted.
The Nationality and Borders Bill currently before Parliament gives the Government powers to create the first-ever offshore immigration processing centre for asylum seekers.
However Kevin Foster, the minister for future borders and immigration, conceded the Government is yet to find a nation keen to sign up to the widely criticised plan.
Asked if a country has shown serious interest in working with the Government on its plan, Mr Foster told BBC Radio 4's World At One programme: "We haven't had a country say to what you've suggested yet.
"But certainly we are in conversations with a number of partners, but for obvious reasons I'm not going to get into the details of them."
Last month Olta Xhacka, Albania's foreign minister, rubbished the idea the country would process asylum seekers as "fake news", although the Telegraph understands officials have been talking about the scheme.
Women being failed by Government 'at every step' as abuse figures rise again
The Government has been accused of having failed women and girls "at every step of their journey" following a rise in domestic abuse. 
Figures published today by the Office for National Statistics show the number of domestic abuse-related crimes crimes in England and Wales rose by six per cent in the year ending March 2021.  
Jess Phillips, Labour's shadow minister for domestic violence and safeguarding, said it was "staggering". 
She added: "These figures are a damning indictment of the inaction by this Conservative Government which show that while the number of victims rise, fewer perpetrators are being brought to justice.
"The Government must stop making excuses and immediately implement the measures in Labour's Violence Against Women and Girls Green Paper including making misogyny a hate crime, increasing the minimum sentence for rape and stalking, and introduce a new law on street harassment."
Government accused of 'Whitehall power grab' over Transport for the North
Transport for the North is being scrapped for "all intents and purposes" in a "Whitehall power grab", Labour's shadow transport secretary has claimed. 
Jim McMahon claimed funding and powers that had been promised locally had not been granted, suggesting it was part of a wider pattern of behaviour from the Government. 
He said: "We all know exactly what this is. We've seen it with the Electoral Commission when they come up with an answer the Government don't like – they're attacked. When parliamentary standards come up with an answer the Government don't like – they're attacked.
Mr McMahon added: "We know this is a Whitehall power grab, and we also know what it will mean in practice, no new projects, just more smoke and mirrors".  
Foreign Office tells Britons in Ethiopia to leave 'immediately'
The Foreign Office has issued a statement urging all Britons in Ethiopia to leave the country immediately, warning there may be no routes out at later points, as rebel forces near the capital.
Vicky Ford, the Africa minister, said: "The conflict in Ethiopia is deteriorating quickly. In the coming days we may see the fighting move closer to Addis Ababa, which could severely limit options for British Nationals to leave Ethiopia.
"I am urging all British Nationals – whatever their circumstance – to leave immediately, while commercial flights are readily available and Addis Ababa Bole International Airport remains open. Interest free loans are available to help British Nationals to return to the UK who may otherwise struggle to afford flights.
"Those who choose not to leave now should make preparations to shelter in a place of safety over the coming weeks. We cannot guarantee there will be options to leave Ethiopia in the future."
Government not 'abandoning' northern transport, minister insists
The Government is "certainly not abandoning" transport in the North, a minister has said amid criticism following the integrated rail plan. 
Advertisements
Judith Cummins, Labour MP for Bradford South,  claimed the Government had " in effect dismantled Transport for the North by removing its powers and its staff."
She said: "What we have seen is a mishmash of broken promises and silencing of its critics."
But Andrew Stephenson, the transport minister, said: "We are certainly not abandoning Transport for the North staff. We thank them all for the work that they have put in to developing options for Northern Powerhouse Rail and the Tupe discussions are ongoing, so we can hope those staff can join the growing number of Department for Transport staff based in the north of England.
"This Government remain committed to HS2 and remain committed to Northern Powerhouse Rail, and this plan that we set out last week explains how we would deliver the benefits to communities across the North sooner than ever expected."
Business Secretary accused of contributing to energy crisis
Kwasi Kwarteng, the Business Secretary, has been accused of contributing towards a "crisis" in the energy market. 
During an urgent question following the collapse of Bulb Ed Miliband, his shadow, said: "We've seen a failure of policy over a decade, a failure of regulation. The Government making the cost-of-living crisis worse. Isn't the truth this Government cannot be the answer to this energy crisis because it is their crisis and it's businesses and families who are paying the price."
Responding, Mr Kwarteng said: "Just as a point of fact, the number is actually 22 companies not 18… actually that shows the incredible resilience of the systems that we have in place."
He added: "In terms of regulation Ofgem have launched a review looking at the retail market and how it operates, and that's something which I will be studying very closely and directly involved with."
Lobby latest: Letters of no confidence 'not a question for me', says PM's press secretary
Asked about whether the Prime Minister was concerned about reports that some Conservative MPs had submitted letters of no confidence in his leadership, his press secretary replied: "That wouldn't be a question for me, and, again, I'm not going to comment on anonymous briefings.
"The Prime Minister is entirely focused on delivering his ambitious agenda."
Asked if Boris Johnson had spoken to 1922 Committee chairman Sir Graham Brady about whether he had received letters, the press secretary said: "No."
Lobby latest: Boris Johnson 'absolutely not' ditching manifesto, No 10 says
Downing Street has repeatedly dodged questions about whether the Prime Minister's manifesto promise that people would not have to sell their homes to pay for care had been broken.
Asked whether the 2019 manifesto had been "ditched entirely" amid about-turns on taxes and the triple lock pension, the Prime Minister's press secretary said: "Absolutely not."
She added: "The PM talked about this at length just now and set out that for the first time ever, we are putting a cap on the amount that people will have to pay for their care that protects them from catastrophic costs.
"Their home will not count towards their assets while they are living in it or their spouse is living in it."
Put to them that they were not the words as written in the manifesto, the press secretary replied: "This is a detailed plan that will protect people from unfair costs and, I think, one you are not seeing from the Opposition." 
Lobby latest: Boris Johnson and Rishi Sunak 'working well together'
Boris Johnson's press secretary said the Prime Minister and the Chancellor's teams were working together well.
It comes after recent reports suggested the relationship between the teams has soured (see 9:01am and elsewhere). 
The Prime Minister's press secretary told reporters: "I've seen various anonymous source briefings that I'm not going to get into.
"But the Prime Minister and the Chancellor and the entire Government is focused simply on getting on with delivering on the people's priorities."
Asked whether No 10 and the Treasury were working well together, the press secretary replied: "Yes."
Lobby latest: Parliament should be made more family friendly, says No 10
Boris Johnson wants to see "further improvements" on making Parliament family friendly, Downing Street has said.
The Prime Minister's official spokesman, asked by reporters whether MPs should be allowed to bring their babies into the Commons following a debate over Stella Creasy MP's actions, said: "We completely understand the difficulties faced by MPs who are new mothers, new fathers or adopted parents and Parliament has made some positive changes to becoming more family friendly in recent years, including on proxy voting.
"We want to make sure that all work places are modern, flexible and fit for parents.
"This is obviously a matter for the House. I know they have issued a statement on that today, but we very much do want to see further improvements."
Asked whether that comment was akin to Mr Johnson signalling his support for a change on the baby stance, the No 10 spokesman replied: "Like I say, we want the workplace in any circumstances to be modern and flexible and fit for the 21st century.
"The exact way that operates is rightly a matter for the House."
Letters of no confidence are 'Westminster tittle tattle', says deputy prime minister
Reports of MPs sending in letters of no confidence in Boris Johnson are just "Westminster tittle tattle", the deputy prime minister has said. 
Backbenchers have told The Telegraph that some disgruntled colleagues have submitted no confidence letters to the 1922 committee. If 15 per cent of sitting Conservative MPs submit them, a leadership contest is triggered. It comes as rumours of a rift between Rishi Sunak and Mr Johnson resurface. 
Asked about this today, Dominic Raab told LBC radio: "There is the usual Westminster tittle tattle and I'm not aware of that."
One former minister told The Telegraph he believed the risk was "overblown", but another said it was "significant", noting: "It hasn't been a story until now." 
One senior Conservative source said it was "a ruse". 
He added: "It's never enough… letters go in and out all the time under every leader. There is no existential threat."
Nearly half of Britons fear levelling up will fail
Nearly half of British adults lack confidence that the Government will succeed in levelling up parts of the UK over the next decade, a new poll suggests.
The survey, from research agency Public First, found that a majority of people think their own area needs levelling up (65 per cent), with the proportion highest in Yorkshire and The Humber (82 per cent).
But only 23 per cent are confident the Government will successfully help level up areas in the UK in the next 10 years. Nearly half (48 per ncet) are not confident of this, and the remainder either do not lean one way or the other, or do not know.
Of all the British regions, only people in London were confident, on balance, that the Government would succeed.
John Cleese was 'quite right' to pull out from Cambridge event, says minister
Comedian John Cleese was "quite right" to highlight the importance of freedom of speech and freedom of belief in universities, a minister has said. 
After Gareth Bacon, the Conservative MP for Orpington, highlighted the Monty Python star's decision to pull out of "speaking to the Cambridge Union following the revelation that they had blacklisted certain people from speaking", Kemi Badenoch said he was "quite right". 
She added: "It shouldn't be up to comedians to educate students on core values such as freedom of speech and freedom of belief. The universities themselves should do that.
"Those who seek to bully, harass or intimidate others because of their views risk undermining our precious freedoms.
"Such behaviour should not and will not be tolerated on university campuses and that is why we have introduced the Higher Education (Freedom of Speech) Bill to strengthen freedom of speech and academic freedom in universities and ensure individuals can seek redress."
PMQs: Government will 'fix' problems left by SNP, says Boris Johnson 
John Nicolson, the SNP MP, says Scots were amazed by the news that the bridge to Northern Ireland was not being built. 
He lists various "broken promises", then asks "who will be defenestrated first" – the Scottish Secretary or him. 
Boris Johnson says the Government is delivering a "thoroughgoing review" of connectivity, and will "fix" problems left by the SNP. 
PMQs: Boris Johnson vows to end importation of trophy hunting
John Spellar, the Labour MP for Warley, asks Boris Johnson to support his bill to end the "vile trade" importing hunting trophies. 
He notes the "principle" has been supported by the Prime Minister in the past as he asks him to instruct whips "not to block this bill". 
Mr Johnson says he is "completely right" and the Government will be introducing legislation to do so. 
PMQs: Tories are 'delivering for Londoners', Boris Johnson says 
Sir David Evennett, the Conservative MP for Bexleyheath and Crayford, says he has been out campaigning for the by-election in his neighbouring constituency of Old Bexley. 
He asks Boris Johnson to confirm he will "continue to implement our 2019 manifesto" – prompting some laughter from opposition MPs. Levelling up should continue to include London, he adds. 
The Prime Minister replies: "We are delivering on our agenda for the people of London… making sure Londoners do not suffer from the crazed outer London tax that would see motorists penalised by the Mayor for driving into their own city."
PMQs: UK must not 'pitchfork away' relationship with China, says Boris Johnson 
Matthew Pennycook, the MP for Greenwich and Woolwich, asks about the security challenge posed by China, and asks for confirmation that plans for China Nuclear to operate a plan in Essex "have been abandoned". 
Boris Johnson says this is a very important issue.
"We don't want to see undue influence by potentially adversarial countries in our critical national infrastructure," he says. 
More information will be "forthcoming", he adds, but stresses "we don't want to pitchfork away" the entire relationship with China. 
PMQs: Boris Johnson challenged over Valneva contract cancellation
Hannah Bardell, the MP for Livingston, asks about the decision to cancel its contract with Valneva. 
She quotes Kate Bingham's criticism of the move,  and asks Boris Johnson to meet with her and the business, which is in her constituency. 
Mr Johnson says he was "personally very disappointed" that approval could not be secured. He says he will ensure she gets "the relevant meeting", but stresses work is taking place to prepare the country for future pandemics. 
PMQs: Boris Johnson challenged over fossil fuel projects
Caroline Lucas, the Green MP, says she rarely agrees with the Prime Minister but she did when he said Cop26 showed the world can end its reliance on fossil fuels. 
She asks why the Government is pressing ahead with 39 oil, gas and coal projects – telling him not to talk about "all the things he thinks he is doing on cars and cash and trees". 
Boris Johnson reprises his usual lines about how the Government is "powering past coal". 
The Cambo oil field will be studied by an independent regulator, he adds. 
PMQs: Boris Johnson hits out at SNP for playing politics
Ian Blackford sticks to his theme, asking why he is "clinging on when he clearly isn't up to the job". 
Boris Johnson asks "what on earth" the SNP's Westminster leader is doing focusing on politics when he should be looking at "the things people of Scotland really care about".
He suggests it is because his party is falling in the polls. 
PMQs: Has Boris Johnson 'considered calling it a day', asks Ian Blackford
Ian Blackford, the SNP's Westminster leader, says Boris Johnson is "floundering in failure". 
He asks if he has considered "calling it a day before he is pushed out of the door". 
The Prime Minister says people want top hear "less talk about politics and more about what this Government is doing for people of Scotland". 
The union connectivity review will be published on Friday, he says. 
Mr Blackford says that was not an answer "but I didn't expect the Prime Minister to take responsibility because he never does".
PMQs: Cop26 'breakthrough' will support 20-30m jobs
After a lengthy cheer from Tory backbenchers after Boris Johnson blasts "Captain Hindsight", Dame Andrea Leadsom asks him to confirm to use the remaining Cop26 presidency to make sure countries will "make good" on their pledges. 
Mr Johnson say the "breathrough agenda" will support between 20 and 30 millions jobs worldwide, although claims this will be a "gross mis-underestimate". 
PMQs: Keir Starmer asks Boris Johnson 'is everything OK?'
Sir Keir Starmer says working people are paying twice for care because they will pay "much more tax in National Insurance", while those living on wealth are protected. 
They will then face having to sell their home. 
This is "a classic con game", he says. The Prime Minister is distracting people with "pantomime speeches", while the Chancellor "dips his hand in their pocket". 
But the routine is "falling flat", the Labour leader claims. He quotes Tory backbenchers and senior sources saying it's just not working, then quotes a journalist asking: "Is everything OK?"
The Prime Minister says: "I tell you what is not working – that line of attack. We are delivering for the working people of this country."
PMQs: Government has created 'working class dementia tax', claims Starmer
Sir Keir Starmer returns to the question of care caps, saying it is "just like their 2017 manifesto all over again – except this time something has changed". 
This plan will "pick the pockets of the poorest" while leaving the richest protected. 
"How could he possibly have managed to devise a working class dementia tax?"
Boris Johnson says he has answered this question several times, and claims the plan will do more to solve the problem than Labour ever did. 
PMQs: Boris Johnson turns the tables on Starmer's HS2 past
Sir Keir Starmer claims it is another broken promise, listing others including raising taxes and bolstered rail links.
"Who know if he will make it to the next election, but if he does how does he expect anyone to take him and his promises seriously?"
Boris Johnson praises the "rail revolution in the North", saying there will be "nothing like it in a century". 
He says he recently discovered that the Labour leader campaigned against HS2, noting that while it has been "very tough for my constituents, I took a view it was the right thing to do for the long-term interests of the country". 
Sir Keir says Mr Johnson has "lost his place in his notes again". 
"The only thing he is delivering is high taxes, high prices and low growth."
PMQs: People will 'lose almost everything' under care proposals, says Keir Starmer 
Sir Keir Starmer says he will "test this in the real world". 
He notes that workers with assets worth around £100,000 would "lose almost everything". He asks "how on earth" these people can meet the £86,000 cap without selling their home. 
But Boris Johnson replies that he will "try to clear this up in the befuddled mind of the right hon gentleman opposite".
He repeats: "Your home is disregarded, even if you have a second home you have a deferred payment. 
"And number three, we are allowing you to insure yourself for the first time against the catastrophic costs by putting the cap at £86,000."
Sir Keir says if you "strip away the bluster" there is a "simple truth" – that people will still have to sell their home. 
PMQs: Boris Johnson claims Labour has 'absolutely no plan' on care
Sir Keir Starmer suggests they "have another go" on whether people will have to sell their home to pay for care.
"Yes or no, it's not complicated," he adds. 
Boris Johnson agrees it is not complicated, repeating that houses are disregarded from the cap on costs. 
"Your home is not included in that," he says, adding that Labour has "absolutely no plan".
PMQs: Boris Johnson challenged over 'broken promises' on social care
In a packed chamber, Sir Keir Starmer begins by asking about "another broken promise" – that nobody would have to sell their home to pay for care. 
Boris Johnson says "no, no", stressing that the plan would "disregard" housing as an asset. 
He says it will allow "people for the first time" to insure themselves against the costs of elder care, adding: "We are taking away anxiety for millions of people."
Following jeers and cheers from the Tory benches, Sir Keir says: "I see they turned up today."
Sir Lindsay Hoyle intervenes to ask MPs to "show some respect".
PMQs: MPs told to reflect on Sir David Amess' 'kindness'
Sir Lindsay Hoyle begins PMQs by asking MPs to reflect on Sir David Amess' "decency and kindness" after his service yesterday. 
Boris Johnson receives a wall of cheers as he stands up, with far more support from backbenchers than he got last week. 
Chris Bryant has the first question, about a constituent whose son has seven seizures every day. He calls for a cross-departmental strategy for people with acquired brain injuries and asks the Government to back it. 
The Prime Minister thanks him for "raising this vital issue", and says he is studying the proposed bill. 
Labour MP welcomes review into Commons baby ban 
Labour MP Stella Creasy has said she was "pleased to hear this" after Commons Speaker Sir Lindsay Hoyle asked a cross-party committee to consider the rules preventing MPs bringing their babies into the Chamber.
The Walthamstow MP was not in the Chamber for the statement as she is taking part in the "proxy voting scheme" allowing another MP to vote for her and the "rules say I am not allowed in anyway due to having baby leave".
But she added: "(I) Hope this means some of these rules will be reviewed to make parenting and politics possible to mix."
See 11:39am for more
Coming up… PMQs
Boris Johnson is on his way in to the Commons for PMQs. 
His mask is on – but will the gloves come off?
Ambrose Evans-Pritchard: Macron and the EU were too quick to mock Britain's pandemic strategy
Whether by pandemic foresight or serendipity, the UK was right after all to ignore the World Health Organisation and let Covid-19 spread in a semi-controlled fashion through the summer and early autumn, writes Ambrose Evans-Pritchard.
This policy was deemed reckless by Europe's leaders and media. Yet the effect was to pull forward infections before vaccine immunity faded and to spread the strain across several months, allowing the virus to burn through the remaining pockets of the unvaccinated before the NHS winter crunch.
Much of Europe is now going through its own ordeal of waning protection but with a six-week lag and with less overall immunity. It is happening just as the flu season arrives – with double its normal intensity – and in the less benign circumstances of approaching winter.
Read more from Ambrose here
MPs to review Commons baby ban after Stella Creasy complaint
Sir Lindsay Hoyle has asked the procedure committee to look into the decision to ban babies from the Commons and Westminster Hall, after Stella Creasy was ordered to stop bringing her three-month-old to debates yesterday. 
The Speaker told MPs it was "extremely important that parents are able to participate" in all proceedings, adding that the "advice given yesterday… of which I was not aware of until last night, correctly reflects the current rules".
He stressed that Parliament should "change with the times" but noted that work must be carried out "professionally and without disturbance". 
Sir Lindsay noted that there was a range of views on the matter and while "the chair can exercise discretion" he has asked Karen Bradley, the chairman of the procedure committee, "to look into this matter".
Sketch: Nadine Dorries gives the Left as good a verbal thrashing as she gets
"My portfolio is wide and deep," Nadine Dorries told the Commons digital, culture, media and sport select committee on Tuesday, and if you call her touchy, she will strike you down, writes Tim Stanley. 
The new Culture Secretary covered everything from 5G to EastEnders; even a new Bill designed to fight hate on social media, which critics say is like putting Shane MacGowan in charge of a swear box.
Dressed in black, she sat back when she liked the question and leant forward when she didn't. And she leant forward. A lot. 
Read more from Tim here
Sir Lindsay Hoyle to make statement over Stella Creasy row
Sir Lindsay Hoyle, the Speaker, is expected to make a statement after Stella Creasy had been told she was banned from taking her baby into debates. 
The statement is expected when the Commons opens at 11.30am.
The Labour MP yesterday tweeted a photograph of an email addressed to her apparently from the Private Secretary to the Chairman of Ways and Means reminding her of the Rules of behaviour and courtesies in the House of Commons, which were updated in early September.
Paragraph 42 of the Rules states an MP "should not take your seat in the Chamber when accompanied by a child", with the Private Secretary telling Ms Creasy this also applies to Westminster Hall.
The email came following her appearance in the Hall on Tuesday with her three-month-old son, who is breastfeeding.
Analysis: The Schrodinger's Cat nature of no confidence letters
…The other problem with letters of no confidence is that no one really knows how many are being sent in. 
Sir Graham Brady, chairman of the 1922 committee, keeps the letters under lock and key, and the tally is similarly restricted. Amid rumours of letters going in during Theresa May's tenure, the veteran Tory claimed not even to have told his wife.
Westminster knows full well that some MPs will claim to have submitted letters when they have not, while others will do so on the QT. Unless or until the threshold is reached, the existence of a genuine threat to any given prime minister is something of a Schrodinger's Cat.
Here's Nikki da Costa, who served under Ms May, with her take on today's news. 
As a veteran of "letters v May" and the very nascent briefing of "letters v Boris", I'm not sure the threshold increasing by 1 is relevant when they may not even be in double numbers, or more than a handful, or not even that.

— Nikki da Costa (@nmdacosta) November 24, 2021
Analysis: Boris Johnson is still far from MPs taking the nuclear option
For anyone who remembers the dark and very, very long days when Parliament was paralysed over Brexit, letters of no confidence being sent in feel like an all-too-familiar moment. 
But the situation for Theresa May was far more bleak than it is for Boris Johnson. 
First of all, the current Prime Minister's majority means a further six or seven backbenchers would have to be sufficiently aggrieved to submit their complaint to 1922 committee chairman Sir Graham Brady. 
Secondly, even under Ms May, the whole process took many months, with the numbers creeping up over months – even at her lowest ebb. And there is no time pressure forcing people's hands. 
Mr Johnson might not be enjoying the best of moments, but even the most annoyed MP will concede that he is an election-winning machine. 
As one put it to me this morning, the relationship might be transactional rather than loyal, but while he remains their best hope of pulling in votes, there is no urgent need to deploy the nuclear option. 
Quarter of English adults break Covid isolation rules 
A quarter of adults in England who test positive for Covid-19 no longer follow the rules for self-isolating, a new survey suggests.
Some 75 per cent of respondents said they fully adhered to the isolation requirements for the entire 10-day period after testing positive for coronavirus.
This is down from 78 per cent in September and 86 per cent in May, according to the Office for National Statistics (ONS), which compiled the survey.
The latest figures are based on responses collected from adults in England between November 1 and 6.
The ONS described the drop from May to November as "statistically significant".
Labour MP tests positive for Covid
With Westminster's Covid case rates still higher than the surrounding areas, yet another MP has tested positive.
Neil Coyle, MP for Bermondsey & Old Southwark, said he was "gutted/bored already but will do as much virtually as humanly possible".
Sadly, I have tested positive for covid & will now miss PMQs today & the chance to ask about leaseholder fire safety costs & broken Ministerial promises, as well as other important meetings this week. I'm gutted/bored already but will do as much virtually as humanly possible.

— Neil Coyle (@coyleneil) November 24, 2021
Tory MP on Boris Johnson: 'A bowl of soup could have beaten Jeremy Corbyn'
It is not just journalists at The Telegraph who are hearing stories from disgruntled MPs toying with sending letters of no confidence into the 1922 committee. 
A senior Tory MP quoted in The Sun described Boris Johnson as being like Jose Mourinho.
The backbencher says: "He was good a decade ago and his powers have been fading ever since. Yes he won an election, but a bowl of soup could have beaten Jeremy Corbyn.
"There is real anger. He has until spring to get back on track or he will be in real trouble. Letters have gone in. I am on the cusp myself."
Countries should consider mandatory Covid vaccines, says WHO director
It is time for countries to have a conversation about mandatory Covid-19 vaccination, a director at the World Health Organisation (WHO) has said.
Robb Butler said "mandatory vaccine can, but does not always, increase uptake" but suggested countries should now be thinking about the issue.
Mr Butler told Sky News that mandates could come at the "expense of trust and social inclusion", but added: "We believe it's time to have that conversation from both an individual and a population-based perspective. It's a healthy debate to have."
Germany's tourism commissioner, Thomas Bareiss, said he expects coronavirus vaccinations to become mandatory in the country, after a move by Austria to make them compulsory from February.
In the UK, Sajid Javid, the Health Secretary, has ruled out mass mandatory Covid jabs, telling the BBC's The Andrew Marr Show on Sunday he does not think it is something the Government "would ever look at", apart from for NHS and social care staff.
Minister promises 'we will get this right' after damning report of Windrush compensation
A minister has promised "we will get this right", after a cross-party group of MPs condemned the Government's handling of compensation for members of the Windrush generation. 
Thousands of Black British immigrants have suffered "truly shocking" delays in receiving compensation, with 23 people dying without receiving a penny, the home affairs committee report found. 
It called for Priti Patel's department to be stripped of handling the claims, arguing that the failures were a "damning indictment of the Home Office".
This morning Dominic Raab, the Justice Secretary, defended the work carried out so far.  
"We really want justice for all of those concerned and affected," he told Times Radio. "We're absolutely committed to making sure there's justice and of course, there's no limits on the amount of compensation or any time limits. So we will get this right."
Ben Wright: Boris's shambolic schtick cannot conceal the breakdown in Downing Street
Boris Johnson is not very good at building bridges, be they over the Thames, between Britain and Northern Ireland, or with the constantly maligned and deeply disillusioned business community, writes Ben Wright.
The Prime Minister's address to the Confederation of British Industry was billed as an attempt to repair relations with the country's employers, innovators and wealth creators. Unfortunately the speech – part unfunny improv skit, part surrealist prose poem and part anxiety dream ("forgive me, forgive me … forgive me") – woefully failed to span the divide.
Boris Johnson impersonated a speeding car, likened himself to Moses and said people should return to the office for "sound evolutionary reasons". There was next to nothing on high energy costs, labour shortages, supply chain issues, rising taxes or increasing regulation. There was no real hint of a plan to boost productivity nor economic growth.
Some will argue this was just Boris being Boris. Part of the point of the Prime Minister's (faux?) shambolic MO is that it ensures the spotlight remains on him and denies the opposition any air time.
Read more from Ben here
What's on the agenda today?
Last week's PMQs saw Boris Johnson all but deserted by his backbenchers. The Prime Minister will be hoping for more support today, amid rumours of letters of no confidence. 
Here is what's on the agenda today:
11:30am: Women and equalities questions with Liz Truss and team.
12pm: Prime Minister's Questions
12:40pm Any urgent questions/statements – to be confirmed shortly. 
Then a 10-minute rule motion on Social Media Platforms (Identity Verification)
This afternoon MPs will debate a motion to approve a statutory instrument relating to terrorism and there will be a short debate on the death of Captain David Mockett, as well as the second reading of the Commercial Rent (Coronavirus) Bill.
Firms 'strategically scale back' Christmas range, amid supply chain issues
Firms are having to strategically "scale back" their ranges to navigate supply chain issues – which could hurt their bottom line – a logistics boss has told MPs. 
Shane Brennan, chief executive of the Cold Chain Federation, said: "It's not about shortages, it's about simplifying, so having less range obviously is one of the key decisions you can make in trying to make supply chains more efficient." 
He added: "We are very good at piling high and selling cheap at Christmas time. What we have to do is strategically scale that back in order to meet the promise that there will be the stuff you expect to see on the shelves, but not necessarily all the extras."
This would have a "knock-on effect" on revenue and profits, he noted – at a challenging time for firms. 
Firms are "having to be risk averse about how they see this Christmas period rather than trying to make up lost ground in terms of revenue", he noted. 
Fresh warning about Christmas food as logistics industry scrambles to 'deliver what we absolutely can'
There will be fewer food items on the shelves this Christmas due to pressures in the supply chain, MPs have been told. 
Shane Brennan, chief executive of the Cold Chain Federation, told the transport select committee: "People have made decisions about what they think is achievable, and so we've got quite a significant scaling back in the amount of work we're trying to do, particularly around Christmas.
"The food supply chain gears itself up to deliver at Christmas, and it's quite a lot (to be) scaling back at the ambition of that.
"Whereas normally it'd be get as much out as possible, to sell as much as possible, to make as much revenue as possible for customers that time, we're having to sort of scale that ambition back to try and deliver what we absolutely can."
Patients may have to travel for hospital care under 'radical' plans to deal with backlog
Patients could be asked to travel for pre-planned hospital treatment in a bid to help the NHS deal with the record backlog of care, NHS Providers said.
The number of post-operative follow-up appointments could also be cut under plans being drawn up to deal with the waiting list. 
Some "radical ideas" are being put forward as part of the plans, said Chris Hopson, although it is more likely that people will be asked to go to neighbouring hospitals rather than different parts of the country. 
Mr Hopson told Times Radio said there was "a moral obligation on trusts and their leaders to make sure that they do everything they can, no stone unturned" to create a "comprehensive plan" to address the backlogs. 
"Some of it will be all the traditional things that we do, which is: expand temporary capacity; ensure that we use overtime as much as possible; ensure that we use the capacity that sits in the independent sector.
"But I think we recognise we need to go further and that's why, some of those radical ideas, we are considering and looking at them."
Liz Truss "on manoeuvres"  as PM's leadership comes under spotlight
It's not just Rishi Sunak who is said to be "on manoeuvres", as questions rumble on about Boris Johnson's grip on power. 
Liz Truss, the Foreign Secretary, is also said to be sounding out colleagues about potential support should the time come, Tory MPs say. There have been "lots of drinks in the Foreign Office" – and appears to be winning over the new intake, although some of the older guard remain to be convinced. 
She is certainly popular among voters, having topped ConservativeHome's Cabinet League Table for the last ten months in a row as she travels the world looking to strike free trade deals and champion 'Global Britain'. 
With her emphasis on traditional Tory values unchallenged – unlike the Chancellor, who has become increasingly associated with the pandemic-induced tax and spend – Ms Truss could be the PM's bigger threat. 
Boris Johnson has 'pent up political energy', says Dominic Raab
Boris Johnson has got plenty of "pent up political energy" that is coming to the fore after the pandemic, Dominic Raab has said. 
Challenged about whether the Prime Minister is losing his grip, his deputy told Sky News: "He is getting on with the job. 
"I am in meetings with him every day. He is the steward of this Government, the leader of this Government…. there is a lot of pent up political energy that the Prime Minister is driving forward.
"We are going to spend the next two-to-three years delivering on people's priorities."
Mr Raab revealed he had been to Peppa Pig World with his children, adding: "That's a day of my life I am never getting back."
Philip Johnston: Once a prime minister's authority goes, the end can be swift and brutal
There is an old Whitehall story, probably apocryphal, concerning a minister not especially well liked by his officials delivering an important policy speech to some august body, writes Philip Johnston.
Not long into his oration he turned over a sheet of paper on which was written: "You're on your own now matey." The remainder of what he imagined would be a 20-minute speech was blank.
Watching Boris Johnson's address to the CBI on Monday, I wondered if the same prank had been played on him as he rummaged through the pages looking for something, anything, to latch onto. Brilliantly he remembered he'd been to Peppa Pig World with his family at the weekend so he could talk about that.  
It was vintage Boris, the juxtaposition of the colloquial alongside the consequential to make a serious point. It was a technique he had honed over many years as a newspaper columnist and after dinner speaker. Once upon a time, it would have had his audience in stitches.
Yet it bombed, triggering another round of "what's wrong with Boris?" head-shaking in the party and "we told you so" sniggering from his detractors. 
Read more from Philip here
Boris Johnson doesn't 'rigidly' stick to rules on communication, says Dominic Raab
Dominic Raab has hit out at criticism of Boris Johnson's widely-criticised speech to the CBI, saying the Prime Minister does not "rigidly" stick to the usual rules. 
"I know what the Prime Minister is like," the deputy prime minister told BBC Radio 4's Today programme.
"It sounds to me like the Prime Minister is not strictly sticking rigidly to the scripted way that politicians of the past have done. He's known for being a great communicator."
Mr Raab dismissed reaction to the speech as a distraction, and insisted that MPs were "focused on us delivering, and that's what the PM is absolutely focused on".
Creative tension? Rift between Rishi Sunak and Boris Johnson resurfaces
The deputy prime minister has insisted the Government is working "as a team", as he played down talk of a rift between Boris Johnson and Rishi Sunak. 
Relations between the two men are said to have soured once again, with reports suggesting the Chancellor's team may have been behind some of the negative briefings towards the Prime Minister in recent days. 
But Dominic Raab told BBC Breakfast Mr Johnson is "on great form" and the Cabinet was fully behind him.
Speaking to Times Radio Mr Raab insisted "the Chancellor is focused on the economic plan". 
One source suggested there was "creative tension" between the two men "but they know they need each other", although conceded "people around Rishi may stir". 
Westminster figures play down 'existential threat' from letters of no confidence
Westminster figures are playing down the threat that letters of no confidence represent towards the Prime Minister, despite Tory MPs saying some have been sent in. 
The 1922 committee, made up of Tory backbenchers, collects any no confidence letters. If 15 per cent of sitting Conservative MPs submit them, a leadership contest is triggered. But with Boris Johnson's sizeable majority, upwards of 50 would have to go in. 
One former minister suggested the risk was "overblown", while a senior Conservative source said it was "a ruse". 
He added: "It's never enough… letters go in and out all the time under every leader. 
"There is no existential threat."
Team Boris in the spotlight – what's really happening in the No 10 inner circle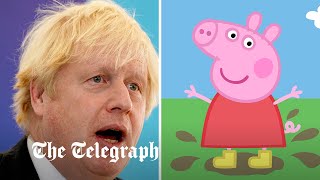 "Forgive me, forgive me, forgive me," Boris Johnson pleaded with business leaders as he lost his place during his keynote speech at the CBI conference on Monday.
The response was an awkward silence. But many in the audience – and those watching the live television images at home – will have been thinking that the time for the Prime Minister to ask for forgiveness has long since passed.
Speeches given by prime ministers to business leaders are normally dry affairs, reported in worthy – if dull – news reports.
When politicians are openly ridiculed like this on primetime television, it is time to worry. And plenty of Conservatives are now openly doing just that.
Read our inside story here.
Deputy prime minister: I ignore Keir Starmer every day of the week
Dominic Raab has said he 'ignores' speeches given by the leader of the opposition because Labour is not "credible". 
The deputy prime minister was defending Boris Johnson's "ebullient" speech to the Confederation of British Industry, which has been widely criticised – including a pastiche by I'm a Celebrity presenters Ant and Dec. 
Asked what he would be saying if Keir Starmer or Nicola Sturgeon had given a similar speech, the minister told BBC Breakfast: "I ignore Keir Starmer every day of the week because they don't have anything credible to say."
He added: "[The Prime Minister] livens up his speeches in  way that few prime ministers, past and present, have done."
Dominic Raab says he is 'a sucker for young kids' as he backs Stella Creasy in Commons row
Dominic Raab said he has "a lot of sympathy" for Labour's Stella Creasy after she was told not to bring her baby into the Commons, but said the decision is for the House authorities to make.
The deputy prime minister told BBC Breakfast: "I've seen her with her young child, I've seen many other MPs on all sides of the House balancing this, and it's difficult. I think we do need to make sure our profession is brought into the modern world, the 21st century, and can allow parents to juggle the jobs they do with the family time that they need."
He said he is a "sucker for young kids" and he would not be bothered giving a speech at the despatch box in their presence, adding: "When you see your colleagues with their children, given the rough and tumble of politics, I just always think it brings out the best in people.
"Whether it's the right thing in the chamber, there will be different views on that, it will be for the House authorities to decide but it certainly wouldn't distract me or get in the way of me doing my job."
Deputy prime minister dismisses letters of no confidence as 'tittle tattle'
Dominic Raab has dismissed suggestions Tory backbenchers were writing letters to the chair of the 1922 Committee to demand a leadership challenge.
One Tory whip told The Telegraph it was now an "assumption" that some disgruntled MPs had submitted no confidence letters to the 1922 committee. 
A second Tory MP said several of the "usual suspects" were believed to have lost confidence in Mr Johnson and submitted letters. 
The deputy prime minister told LBC radio: "There is the usual Westminster tittle tattle and I'm not aware of that."
Read more on that story here
Harpers Law 'firm and fair', says Justice Secretary
Dominic Raab has defended the decision to effectively erase the distinction between manslaughter and murder, saying killing an emergency worker "shows a level of malevolence, of severity, that does require a mandatory life sentence". 
The Justice Secretary suggested Harpers' Law was critical to post-pandemic recovery that the justice system was "firm and fair", noting there have been 10,000 convictions for assault against emergency workers
He told Times Radio:  "We want those emergency services to know we have got their back."
Post-Brexit talks will 'probably' run into next year, warns Brussels chief 
Talks on Northern Ireland Protocol will "probably" continue into next year, European Commission Vice President Maroš Šefčovič has warned. 
He told Politico he had been "probably too ambitious" when previously stating that discussions on customs and food checks or the role of the ECJ could be wrapped up before Christmas  but he suggested it could still be agreed if the UK compromised. 
"I think that if there was the clear political will from the UK side these … problems could be solved," he said. "But looking at how far we progressed over the last four weeks, the level of detail our U.K. partners want to discuss, I know that we will probably not be able to resolve everything before the end of the year."
Sefcovic is meeting Lord Frost again this week after the pair agreed to "intensify" talks in the hope of a breakthrough on medicines trade. He said he was still hopeful of "decisive progress this week", but this is the de-facto deadline for reaching a deal, because the EU will need time to implement any potential solution. 
British Army to leave Canada after 50 years for new base in Middle East
The British Army is to leave Canada after 50 years, with its biggest training base set to move to the Middle East.
The British Army Training Unit Suffield (Batus) in Alberta, western Canada, has been in operation since 1972, training thousands of British soldiers in live firing exercises. 
More than 1,000 vehicles, including tanks and helicopters, are regularly used by regiments for weeks at a time at the 2,700 kilometre-square base, seven times the size of Salisbury Plain.
However, Ben Wallace, the Defence Secretary, is expected to announce later this week that plans to modernise the Army will include developing a training area in Oman.
Good Morning
Boris Johnson will go toe-to-toe with Sir Keir Starmer in his first time speaking publicly since Monday's widely-derided speech to the Confederation of British Industry.
The Prime Minister is facing a slew of bad headlines – but will the Labour leader be able to get the upper hand? 
Advertisements
( Information from telegraph.co.uk was used in this report. To Read More, click here )
Advertisements